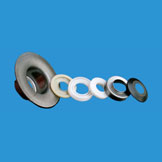 Enquiry Now
Specifications:
Roller Diameter: 60 to 194mm .
Bearing Size: 6204/6205/6206/6305/6306/6307/6308/6310ZZ.
Material: CRC plate 2.8 mm to 5 mm thickness.
Diameter: 50-219mm.
Shell Thickness: 2.5-5mm or as required.
Shaft Diameter: 20mm-50mm or as required.
Features:
CNC Machining Ensures both:
RProper fit of Shell Ends to bearing Housing.
Excellent Grip and positioning of bearing inside the Bearing Housing.
Tolerance +0.00, - 0.027.
Labyrinth Seal Sets:
Full set of Labyrinth Seal has 5 parts.
Sealing Ring (Material: Nylon)
Female Labyrinth Sealing Ring/inner Seal (Material: Nylon)
male Labyrinth sealing ring/Outer Seal (Material: Nylon)
Metal cap/Dust Cap (Material: Steel)
protective cap/Rain Cap (Material: Nylon)