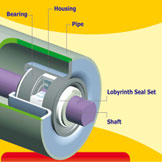 Enquiry Now
The Roller are very important component of belt conveyor. They are present along the entire Length of the conveyor, support the belt and moving the materials loaded on the belt. The diameter of the idler could be correctly selected according to the belt width and Travel speed. We produce f60mm, Ǿ 63.5mm, Ǿ 76mm, Ǿ 89mm, Ǿ 102mm, Ǿ 114mm, Ǿ 127mm, Ǿ 139mm, Ǿ159mm. They almost cover all belt width requirement General steel Roller consists of idler shell, spindle, bearing, bearing house, seals Equipment and axial fixed unites.
Features:
Steady running, reliable quality and reduce maintenance.
Less movement longitudinally, rotating smoothly, extends the life span.
Various bearing housing and sealing structure are available for the customer's choice.
Multipass labyrinthine sealing, preventing the mixed dirt and water immersed.
Manufacturing by steel pipe especially for of high precision roller, ensuring the strong load, low shaking and less noise.